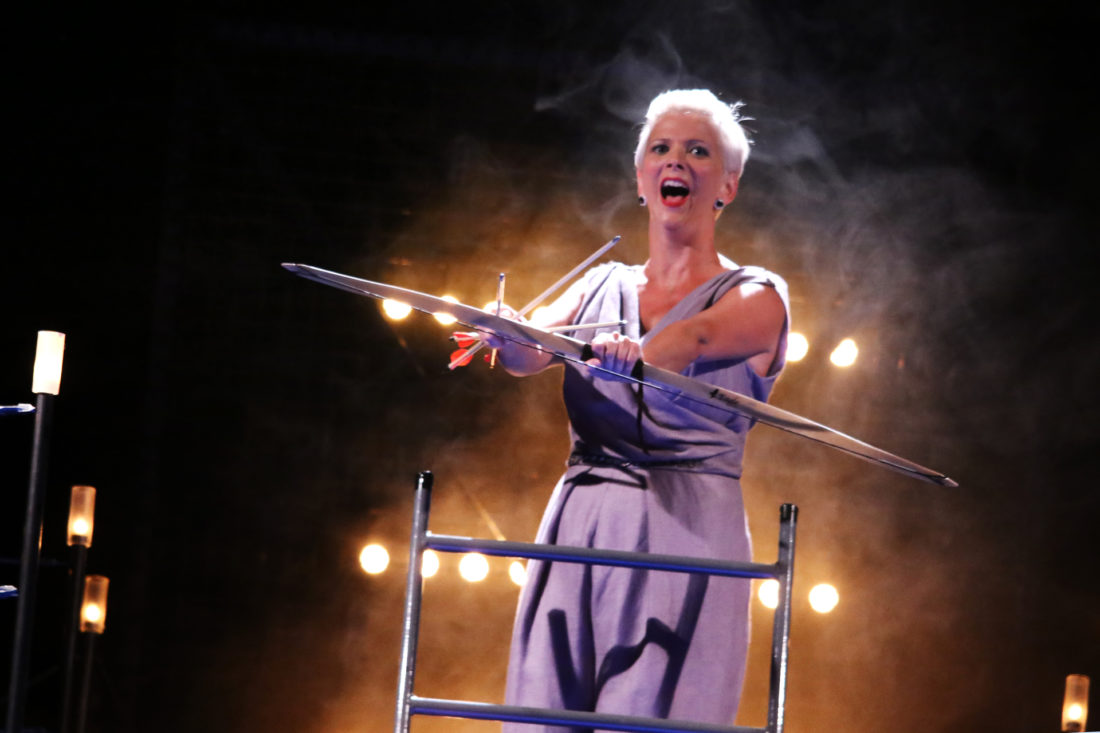 The Return of Ulysses – Bachtrack Review
A gripping Return of Ulysses from Opera Collective Ireland and the Akadamie für Alte Musik
By Andrew Larkin, 9th September 2018
★★★★
Performances of Monteverdi operas in Ireland are far less frequent than blue moons (around once a decade) but far more gripping and luminous as last night's performance demonstrated. This was a happy and fruitful collaboration between Opera Collective Ireland and the Akadamie für Alte Musik delivering a thoroughly convincing interpretation of Monteverdi's masterpiece The Return of Ulysses.
Based on Homer's Odyssey, the opera recounts the story of the return home of the eponymous hero ten years after the end of Trojan war. Despite the passage of time and three persistent suitors who try to convince her of her husband's demise, Penelope remains faithful to Ulysses. Penelope promises to marry the suitor who can string Ulysses' bow. After failing miserably, the three unwanted suitors are dispatched to the next world by Ulysses while he eventually convinces his wife as to his true identity by describing in detail their marital bed. Penelope's recitative style comes to an end as she bursts forth into a song of joy and love.
Director Patrick Mason delivered an effective modern take on this 17th-century work. Updated to the 1940s, the suitors are mixture of army officers and dapper gentlemen-about-town; Telemaco, Ulysses' son, is part of the RAF; Minerva's flying chariot becomes an aeroplane; and the gods are impeccably dressed aristocrats. Mason's modernising vision of the work did nothing to disturb either text or music but rather added a vibrancy and immediacy that was thoroughly convincing.
Set and lighting designer Paul Keogan cleverly integrated the strings and continuo players of the Akadamie für Alte Musik around a small circular area where the main action takes place. A steel platform in midair represents Mount Olympus, the realm of the gods which was connected to earth by a set of stairs. The tall post of lights was as effective as it was versatile: a flash of lightning indicated an omen from the gods, while a spinning pattern ingeniously suggested the propellers of Minerva's plane.
The singers ranged from very good to outstanding. First up, the depth and power of Hungarian baritone Gyula Nagy's voice brought a magisterial quality and grandeur to his Ulysses. Here was one who sung convincingly and with great emotional depth of the despair and anger with his fate, the struggles with the gods and his wife's resistance to see him for who he really is.
Raphaela Mangan's Penelope captured the reserve and the emotional distance of her character very well, declaring her honourable intentions with pellucid diction. Her voice only opened fully at the end when she was restored to love.
There were many highlights among the rest of the cast with soprano's Emma Morwood's Minerva casting a spell with her golden voice while Ross Scanlon's brilliant comic timing ensured an enjoyable relief as the sybaritic Iro. Rory Musgrave's Eumete pleasing baritone was always surefooted as the shepherd while Andrew Gavin's Telemaco brought a filial enthusiasm and earnestness to his part. The three suitors, countertenor Eoin Conway, tenor Andrew Boushell and baritone Brendan Collins demonstrated great vocal agility and comedy in their slimily insidious roles.
A final note must go to the excellent musicians of Akadamie für Alte Musik under the thoughtful direction of conductor Christian Curnyn who provided a finely varied and sensitively balanced continuo for the singing cast. Let's hope that we don't' have to wait so long for the next return of Ulysses!